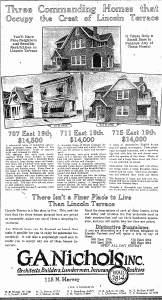 They were saying this in 1927 and it still holds true today! Each month we want to begin sharing a tidbit of our history. If you haven't seen the snapshot of history that the Guard's produced several years ago, it also has a lot of interesting tidbits. Many of you might have history that needs to be shared! If you know something interesting about our neighborhood, please share so we all can learn more about the place we call home.
This ad ran in the Oklahoman on August 28, 1927. Love the ad copy that still holds true today, you will have fine neighbors!
The ad features three homes on NE 19th, 707, 711 and 715.