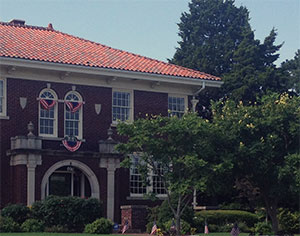 Have you spotted Red, White and Blue in the neighborhood? July 4th is just around the corner and a few of our neighbors have made their home festive in honor of the holiday!
July 4th is a summertime highlight, many of you will probably be firing up the grill and some of you might even be daring and have a watermelon spitting contest! The fourth is a perfect time to gather with family and neighbors! You can grab some lawn chairs and look up in the night sky and you might be able to see fireworks light up the sky from these Oklahoma City area displays!
July 3

Red, White & Boom

Events are scheduled at 8:30 p.m. with the OKC Philharmonic presenting Patriotic Pops at the State Fair Park entertainment plaza. Joel Levine will conduct the concert and Susan Powell is the featured soloist. Bring lawn chairs and enjoy concessions as well. Admission is free. Fireworks will follow the show.

Oklahoma City Redhawks

Following the game the ballpark will have a special Independence Day fireworks show!

July 4

Bricktown Fireworks

Scheduled for approximately 9:30 p.m., visitors are invited to bring lawn chairs and blankets, and view the fireworks from along the Bricktown canal, Lower Bricktown, any parking area, or visit one of many of the Bricktown restaurant patio dining areas.
Happy Fourth of July Lincoln Terrace Neighborhood Association!