603 N.E. 17th Street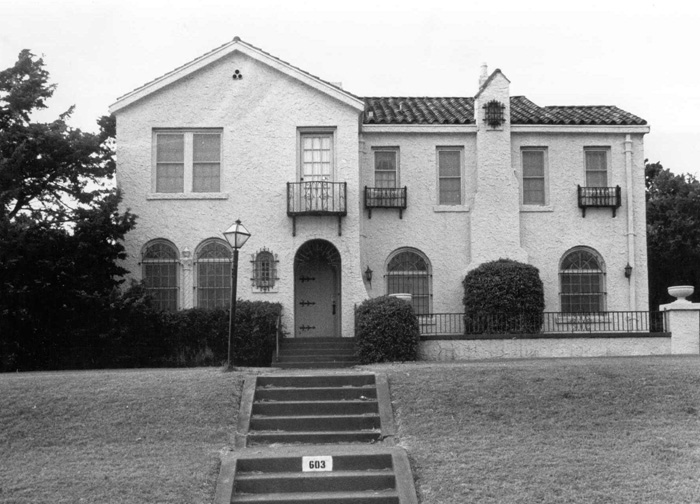 This is a white stucco house with Spanish tile red-orange roof. The entrance wing projects forward on the Lincoln Boulevard side with a simple gable. The windows on the first floor have arched heads and one pair has a stucco Corinthian capital pilaster surmounted with an urn between them. There are wrought iron balconies on some second story windows as well as one at a second story door over the entrance. This house is terraced up well above the street and has a retaining wall at the driveway with two sculptured stone lions at the street drive.
W.L. Brittain 1928-44
Hugh A. Fair 1945-49
Charles Tompkins 1949 –
Louise Kinkead Farr was a physician who lived here for a time with her sister, Mrs. Dena Kinkead, who was involved in real estate and investments.
Colonel Tompkins was born in Nyack, New York; a career soldier, he retired as Chief of the Oklahoma Military District in 1953, after having served 38 years in the United States Army as an artilleryman and artillery instructor. He served briefly as the Oklahoma County tag agent and then established his own realty company. Mrs. Tompkins was, at the time of her marriage, the appointments and personal secretary to Governor William J. Hollway, 1929-32 and Lt. Governor, 1925-29.