May 2015 Yard of the Month
Michael & Jennifer Smith ~ 625 NE 14 Street
April 2015 – Yard of the Month
Charles & Margo Harding ~ 631 NE 17 Street
Yard of the Month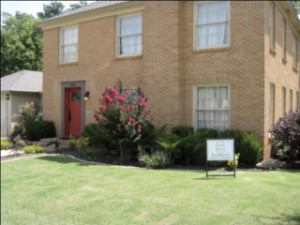 One of our neighborhood association goals is to strengthen the beauty of our neighborhood. Many of our neighbors are putting forth an effort to make our neighborhood beautiful. The hard work and dedication of our neighbors in maintaining their homes and yards contributes to the overall aesthetic appeal of our neighborhood, and that is something that all of us in Lincoln Terrace can appreciate and be proud of.
Beginning in April we will begin honoring the Yard of the Month. To be selected as Yard of the Month does not necessarily mean that a yard is the single most beautiful yard in Lincoln Terrace, as it would be difficult to judge each and every home each month and rank them all in the order of their aesthetic appeal. A winning Yard will meet or exceed the judging criteria, described below, and be deserving of recognition.
A yard does not need to be professionally landscaped in order to be recognized. All neighbors in Lincoln Terrace are eligible, including those who have not yet become members of the home owner association.
Neighbors can nominate their own yard or a neighbor's yard. Nominations must be submitted by the 15th of each month. If a nomination is made after the 15th, the property will be considered in the next month's Yard of the Month.
The month of October will be awarded based on a Halloween Theme, November will be a Fall/Harvest Theme and December will be the Holiday Spirit. The children of Lincoln Terrace will select the December Yard of the Month.
Criteria
Lawn: mowed, trimmed and weed free
Edging: driveway, walks, curbs
Shrubs, Bushes, and Trees: healthy, neatly pruned, in proportion/scale with home and terrain
Pleasant appearance that makes the property an asset to the neighborhood (no unsightly debris, broken gutters, etc.)
Color (green grass, colorful living plants, mulch, other landscape design material, etc…)